Lancaster Bear Watch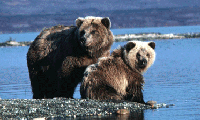 Welcome to the pages of the Lancaster Bear Watch Project. Herein, we will be attempting to compile as thorough and comprehensive a picture as possible of exactly how many bears are living within the City Of Lancaster, and also, under what circumstances they are living. We hope to expand right the way across the areas of Morecambe, Arnside, Silverdale, Carnforth and Ellel.
At the moment, it may surprise you to learn that very little information has been collated on the bears living within Lancaster, and we here at the Paddy Garrigan Web Site feel that this is a deficit that we can more than replenish. Right now, teams of roving reporters are forraging through Skerton and Torrisholme in search of what we jokingly refer to as "Bear Facts". It is matter of the deepest importance that we find out as much as we can now, before (for example) the delicate eco-system of Ryelands Park is totally destroyed, or the great Bearscapes of Brookhouse dissappear from view.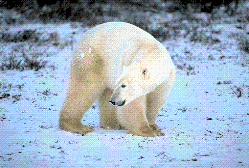 So what is the Bear picture in Lancaster right now ? The sinple answer is this - "Unclear". Few bears are as visible in Lancaster as they once were, and, even in the seclusion of the Ridge estate, it is estimated that only a handful of Polar bears are living happily. Grizzlies may still be seen at Sunderland Point from a long vantage at dawn in spring, but elsewhere the picture is less clear. Some reports place a Koala living on Westgate, but yet again we find ourselves on the horns of an anthropological dilemma - is the Koala not a marsupial, and as such, does it therefore qualify as a bona fide Bear? We just don't know.
We just don't know
So we are calling upon you, the public, to help our BearQuest. Do you have any information on Bears? Perhaps you live next door to one? Whatever, it is crucial that we assimilate the maximum amount of information. Please e-mail us here with your Bear spottings, and indeed anything else you think may be of use to us. We will be upadating these Bear Watch Reports regularly, so do keep your reports coming. And Good Luck.