"Dylan Night" at the Yorkshire House, Lancaster
Reviewed By Our Head Writer
A hot night, some hot pants and some hot playing. Well, that may have been what you were expecting, mate, but it wasn't that to me. Oh no. Not by a long chalk.

A Particularly virulent Beacon
Opening up a night like this is an unenviable task, but even so, Everard's Beacon was hardly up to the task in hand. A thin, lifeless performance was very much the norm here, and whilst I cannot recall any of their previous outings, I can't say I hold much hope for the future.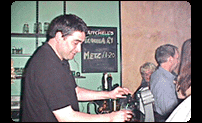 "More Champagne", Cries Mike
It is far too rare these days that we get to see Gordon's Gin, particularly seeing it in tandem with Schweppe's Tonic Water. A light and promising set was unexpectedly finished off in a matter of seconds, when I forgot that I wasn't drinking a pint of the stuff, and calls of "more" from the floor were prohibited by an interjection from the management. Not fair, we say.
Next up was Everard's Tiger. The Tigers are very much a local favourite, and the strength of tonight's set was enough to virtually knock me off my feet. An extended performance was very greatly appreciated by all, not least your reviewer who was found shortly afterwards with a pint in either hand, and a further pint down one of the legs of my trousers.

A Cider Drinker, yesterday.
I can hardly remember my last encounter with Gaymer's Old English Cider, but I sincerely hope that I don't have another like the one I had tonight. Vapid, tasteless, and almost inclining me towards heartburn. Nonetheless, it would not be fair to say I was unmoved by it's performance, although I shall not be dancing quite like that again in a hurry.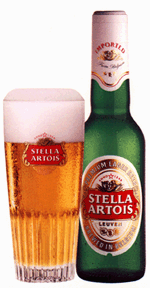 So, after all that, it was only left for me to crack open a few cans of Stella Artois whilst enjoying the palatial splendour of the home of some of lancaster's finest rock musicians. Quietly refreshing, although under-chilled, a much-appreciated if little-required treat. Rarely has double-vision been so enjoyable. In short, a triumphant night for all concerned, albeit with some dissapointments. Next time, let's simply concentrate upon the beer, and not bother with this Rock Music, eh?